Voor wie het nog niet heeft meegekregen (wat ik me kan voorstellen), Renault heeft zonet in Monaco de Alpine Vision onthuld. De conceptauto voorafgaand aan de uiteindelijke nieuwe Alpine.
De productieauto wordt nagenoeg hetzelfde en wordt eind van het jaar (Autosalon Parijs vermoed ik) onthuld. In 2017 wordt de auto leverbaar.
Een paar specs voor zover ik die nu kan vinden:
1100kg, +300pk (uit 1.8Tce waarschijnlijk), onder de 4,5s naar de 100.
Een paar plaatjes: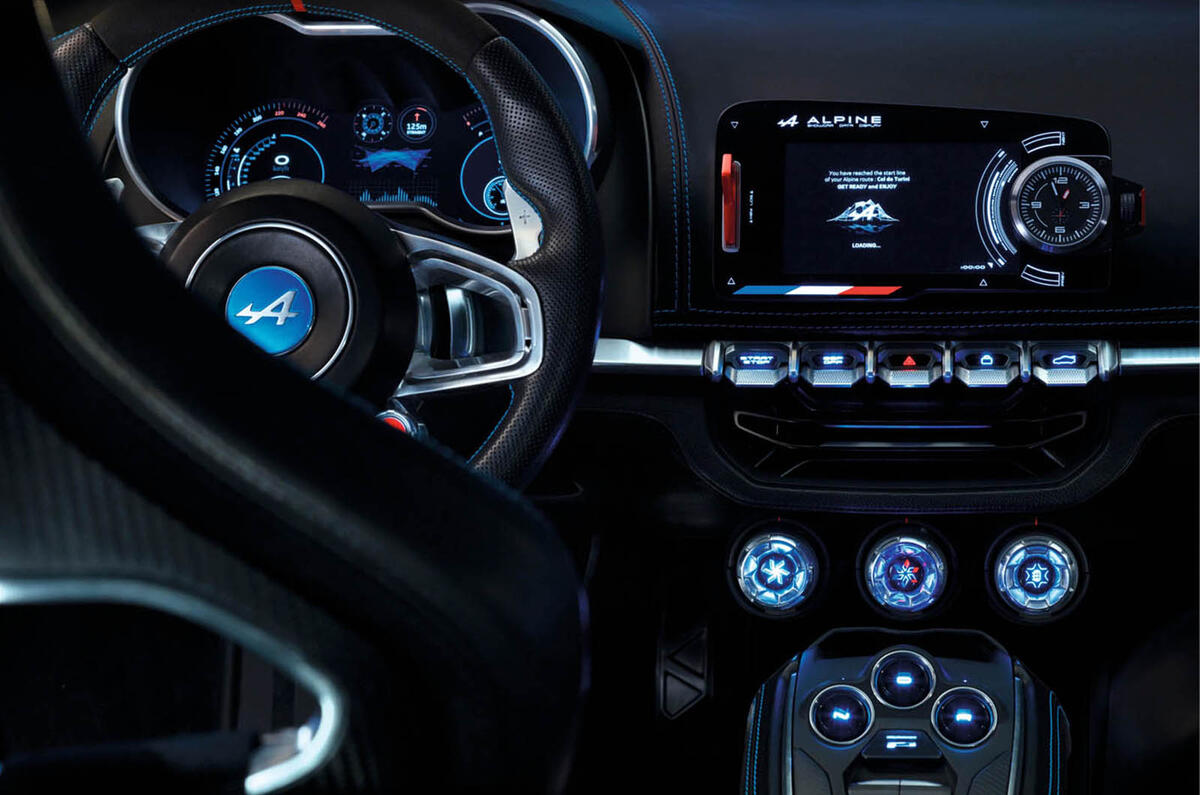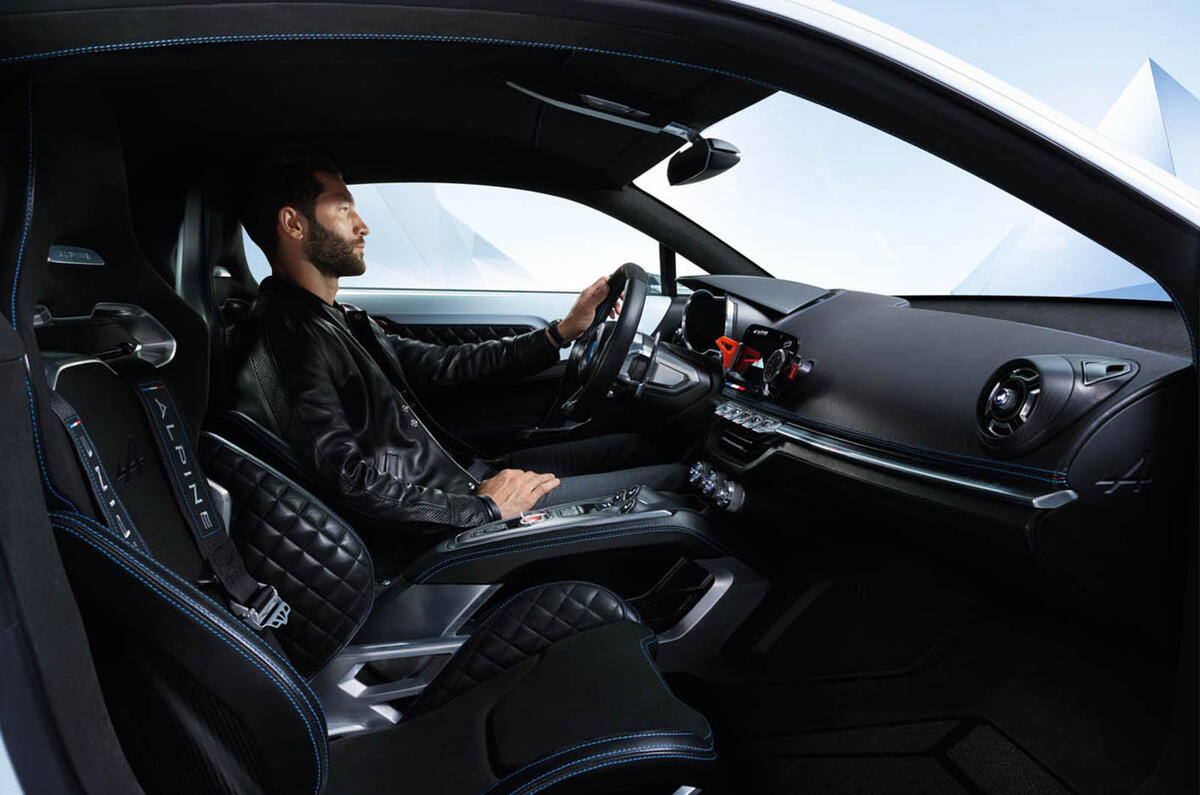 Wanneer het persbericht binnen is plaats ik dat ook even hier

Engelstalig bericht van AutoCar:
Renault Alpine Vision concept unveiled
Alpine's 2017 Porsche rival will weigh about 1100kg, pack up to 300bhp and cost £40k

Renault will formally revive its Alpine performance brand next year with an all-new sports car closely related to this concept, the Alpine Vision.

The Alpine Vision is a mid-engined two-seat coupé that will make its public debut at the Geneva motor show next month. It was unveiled by Renault boss Carlos Ghosn at an event in Monte Carlo, a location chosen as a nod to the original Alpine's historic early successes on the Monte Carlo Rally.

A whole new team and division has been set up within Renault to help launch and develop the Alpine brand. The division has a dedicated boss (Bernard Ollivier, a former Renault Sport chief), a head of design (Antony Villain, the man behind recent Alpine concepts) and a head of sales and marketing (Arnaud Delebecque, a Renault veteran who also has rallying experience).

The plan is not to relaunch Alpine as a single-model entity but as a brand with several sporting models, including an SUV that has been hotly tipped to join the new sports car in 2018.

The production version of the new sports car will be unveiled before the end of this year and go on sale in the second quarter of 2017.

The Alpine relaunch was originally planned as part of a joint venture with Caterham, but this ended in 2014 when Renault bought out Caterham's 50% stake.

Indeed, the whole project was considered in doubt at one point, because it had been seen as a pet project of former Renault chief operating officer Carlos Tavares, who left the firm in 2013 before taking over at PSA Peugeot Citroën. However, that was not the case and the Alpine project has progressed in the background.

Renault came close to reviving Alpine in 2008 before the global financial crisis made the project a non-starter. In 2012, the 50th anniversary of Alpine was celebrated with the Mégane racer-based Alpine A110-50 concept car, and later that year the comeback proper for Alpine was announced with the Caterham deal.

Further concept cars followed last year, including a virtual one created for the Gran Turismo video game and the Alpine Celebration at Le Mans, a concept that edged the Alpine brand closer to production again and forms the basis of the new Vision.

Although officially billed as a show car, the Alpine Vision is a very close preview of the model that will go into production next year. Alpine design director Villain said "80% of the style of our forthcoming car" is reflected in the latest concept.

Alpine describes the Vision as a "high-performance, elegant, lightweight car dedicated to driving pleasure in its very purest form".

Renault believes it has spotted a gap in the sports car market for a model that is "simple, fluid and very uncomplicated" and also has everyday usability. So said Alpine boss Ollivier to Autocar at Le Mans last year when the Celebration was shown.

"A real Alpine means the DNA of Alpine, which is light, fast and fun to drive," said Ollivier. "We think a new Alpine should be firstly a modern car, with a modern design and modern technology, and secondly a car which also shows the heritage."

Very few details of the car have been confirmed by Alpine at this stage. It has been revealed that the engine will be a turbocharged four-cylinder unit of an unspecified capacity. However, Autocar understands the engine will be a 1.8-litre unit developed from the turbocharged 1.6-litre engine used in the Clio RS.

The engine's outputs are also undisclosed at this stage, but sources have indicated the Alpine will have around 250bhp as standard and up to 300bhp in a higher-performance version that will use more aggressive turbocharging.

It is understood to be hooked up to a seven-speed dual-clutch automatic transmission driving the rear wheels, something backed up by the steering wheel-mounted paddle shifters in the interior of the concept car.

Alpine has confirmed a 0-62mph time of less than 4.5sec. A kerb weight of around 1100kg is also expected, with lightness considered to be of greater importance than outright power. Indeed, Ollivier told Autocar last year: "The ratio of light weight versus power is not negotiable; it's the DNA."

The design references the classic Alpine A110 and other past Alpines with details such as central circular lights at the front with a cross graphic in them.

The cabin is very high-tech, and an Audi TT-style digital dashboard is one of its notable features. There's a rich mix of materials, including leather, aluminium and carbonfibre, as well as plenty of nods to motorsport, with twin bucket seats, harness belts and aluminium fastening buckles.

The interior is understood to be very driver-focused, with a low-slung driving position and limited switchgear. Other features of the production car previewed by the Vision concept include a Sport mode, which will most likely sharpen the drive further.

There are no clues as to the chassis or bodywork construction of the Vision, save for the repeated emphasis of its light weight and confirmation of the mid-engined layout.

Autocar understands a kerb weight target of 1000kg was originally given to the project, although this was abandoned because it would have required the use of expensive carbonfibre bodywork.

As with the earlier Celebration concept, the Vision gets bespoke Alpine badging and branding without any Renault badges. The white-coloured Vision concept is a development of the blue Celebration concept. It has been adapted to be more of a road car, in contrast to the racing brief of the Celebration.

The new Alpine will be built at Renault's factory in Dieppe, which was Alpine's original production plant. The factory currently builds Renault Sport models, as well as Bluecar electric vehicles for the Bolloré company that runs car sharing schemes in Europe.

Alpine is set to be launched in Europe before sales go global, including to North America. Renault doesn't sell vehicles in North America at present, in part explaining why Alpine has been given a brand identity and logo independent from Renault's.

Alpine is also part of a renewed performance push from Renault, which has returned to Formula 1 this year with the express intention of selling more cars and growing its Renault Sport business.

A price of around £40,000 is tipped for the Alpine, which would put it in direct competition with the Porsche 718 Cayman, which will be relaunched this year with a four-cylinder turbo engine.

Comment - Matt Prior - Why the new Alpine is so exciting

The most informative thing about the details of the Alpine Vision is the picture of it alongside an A110. If you haven't seen an A110 in the metal, they are tiny. That the Vision doesn't dwarf it, like nearly all other modern sports cars and hatchbacks would, is reason to get excited.

Renault will tell you plenty of stats about Alpine's history - the 30,000 road cars and more than 100 race cars it made - and all of its stage and race wins. Of course it will; it has done nothing with this brand since 1995 and has some 'engagement' to do with customers.

But for you and me, the most important number today is this one: 1100kg. Only track-focused specials whose hoods (if they have them at all) skin your knuckles beat that. The Lotus Elise and Alfa Romeo 4C are close, but it's still considerably lighter than a Porsche Cayman, even one with four cylinders.

With the rebirth of Alpine, the sports car world is about to get a lot more exciting. And if the production car is as pure as the Vision, I can't wait for it.